The LigoWave conference in Berlin, November 12th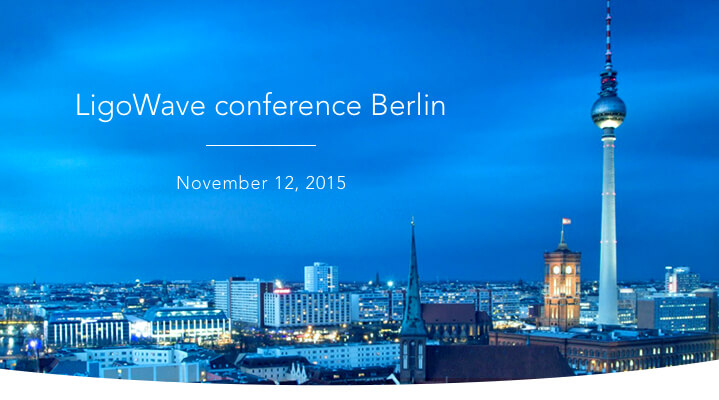 The LigoWave conference will take place in Berlin, Park Inn Hotel Alexanderplatz
Address: Alexanderstraße 7, 10178 Berlin, Germany
Map: maps. google.com
URL: http://www.parkinn-berlin.de/
Contact: +4930 2389 2389/ +4930 2389 4379
The participants will hear about
New products and technologies
Successful deployments of LigoWave equipment
Live tests and reports
New partner program
LigoWave training academy
Many more exiting news related to the company.
Time
November 12th, 10 AM – 5 PM
Price
The event is free for every registered participant.
Gifts
Each participant will get a new product announced during the conference.
Registration
We invite you to register to the event on the link below:
http://fluidsurveys.com/s/conference_berlin/
We highly recommend this event for:
Network engineers
Telecom operators
Internet service providers
System Integrators
Value added resellers
Distributors
Business enterprises
And other companies or individuals related to the wireless networking products.
Accommodation:
We recommend staying at Park Inn Hotel Am Alexanderplatz. Price for the single room is 94 EUR per night and price for the
double room is 104 EUR per night. The reservation code is LigoWave.
Please reserve your rooms under the telephone +4930 2389 2389/ +4930 2389 4379.
Reservation can be also made via e-mail lena.hurrass@parkinn-berlin.com
The rooms at the special rate will be valid until the October 14th, 2015.